The truth about dog poop bags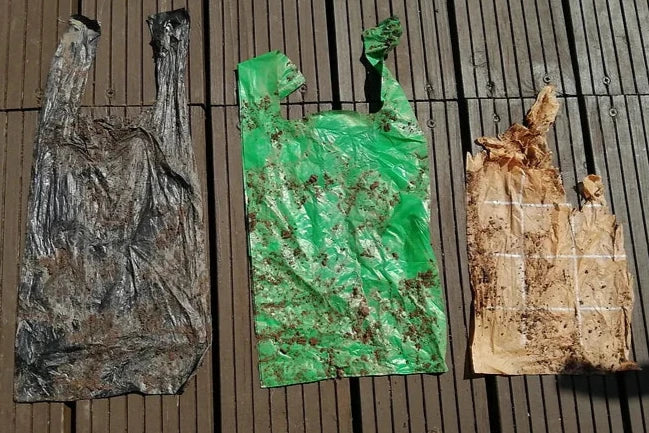 Discover the difference

Sometimes even the most magical poop fairy can find themselves scratching their head when it comes to figuring out what's best for our dear Mother Earth. Those fancy words and nature-filled pictures on the packaging can really throw us off! But fret not, my fellow mystical poop fairy! We've got your back with a handy-dandy guide that'll help you navigate through the foliage-covered poopscape.
Degradable Dog Poop Bags

Crafted from polyethene, a common form of plastic. It's important to note that despite its degradable nature, it can take up to 1000 years to fully break down. This extended breakdown period leads to the release of micro-plastics, which can have detrimental effects on the soil, oceans, and waterways.
Biodegradable Dog Poop Bags

The most misleading of the three due to clever phrasing and visual representations. Constructed from a blend of petroleum, chemicals, and supplementary microorganisms. There are no established timeframes, criteria, or certifications necessary to authenticate or substantiate any assertions regarding the process or duration of decomposition. Requires several years to decompose.
Compostable Dog Poo Bags

Produced using renewable cornstarch sources. Adheres to strict European standards - Within 12 weeks, no more than 10% of the original material remains in pieces larger than 2mm, and ensures zero contamination of the soil. Leaves behind no micro-plastics, only soil-enriching nutrients.*Results based on ideal composting conditions.
Poop Bag Experiment

Discover what happened when we buried a degradable, biodegradable and compostable dog poop bag for six months. SHOW ME.
Why Bag And Boop
Five Star Customer Service

Subscribe & Save 15%

100% Natural Ingredients

Plastic-free Products
What Our Trusted Customers Say
Amazing In every way!

The poo bags are sturdy and a great size. There's a generous amount on the roll and when they do need to be replaced there's no sticker sabotage, so no waste! The shampoo bars leave my dogs fur soft and shiny. Plus they're easy to handle, you don't have to faff about with trying to get the last drop of shampoo from a bottle whilst keeping the dog in the bath. The nose and paw balm have been a great help for my dogs sensitive skin. The ingredients are simple, so you know there's no nasties.

Rosanna Louise Via Trustpilot

Top quality strong and large poo bags

Top quality strong and large poo bags, with the added bonus of knowing you are reducing your plastic footprint. We also bought the natural soap which leaves the dog smelling amazing! and received nose/paw balm which is perfect for these winter months. Fantastic company and products, much better quality than shop bought! Will be a returning customer for sure

Rachel T Via Trustpilot

Furmoved Magic!

I've got to admit...I was sceptical 🤔 How could such a small thing collect pet hair? A big claim! Well, I can honestly say that....WOW! It does!!! I tried it in the car boot (which had so much hair, it would not make just one dog hair jumper but would keep a production line going for days!!!) I have before and after just 5 mins photos but not sure how, or if, they can be put on this review. Furmoved is a little bit of witchcraft 😂

Donna R via Trustpilot